The Better Dog Boot!
Frustrated with traditional dog boots that are hard to get on, uncomfy for your canine and often fall off? We get it! That's why we created Walkee Paws, the world's first all-in-one dog boot leggings designed to solve these issues and protect your pup from the ruff stuff outside.Thanks to an over-the-back construction—where all four leggings connect to one another—we guarantee you'll never lose a dog boot again! (And if you do, we'll send you a FREE replacement pair!) If one paw slips out, just slip the legging back on and you're good to go!
P.S. Our best-selling dog bootie just got even better-
introducing DELUXE EASY-ON BOOT LEGGINGS
Never Lose A Dog Boot Again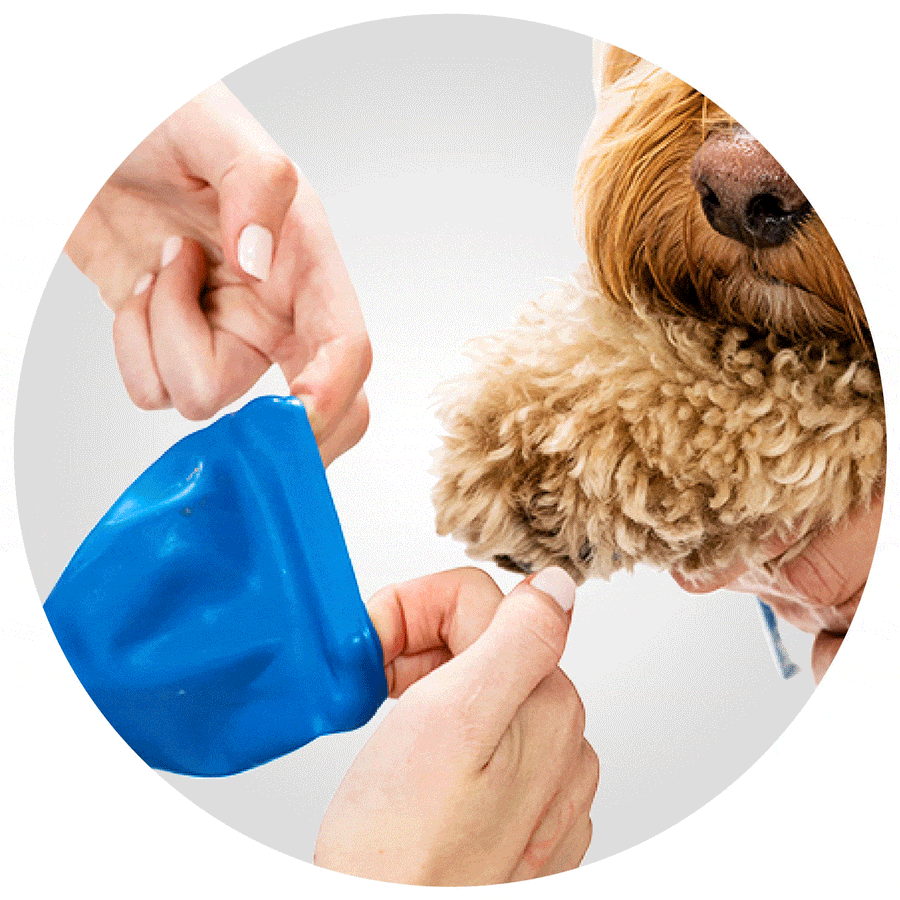 Easier On And Off
Comfy For Pup
Protects Paw Fur Too!
Protect Your Pet's Paws During Any Season!
Our Walkee Paws Leggings are the best dog boot solution! Suited for all seasons, Walkee Paws' unique legging design provides superior protection from the elements and extreme environments. Our outdoor dog leggings are best suited for:
00:19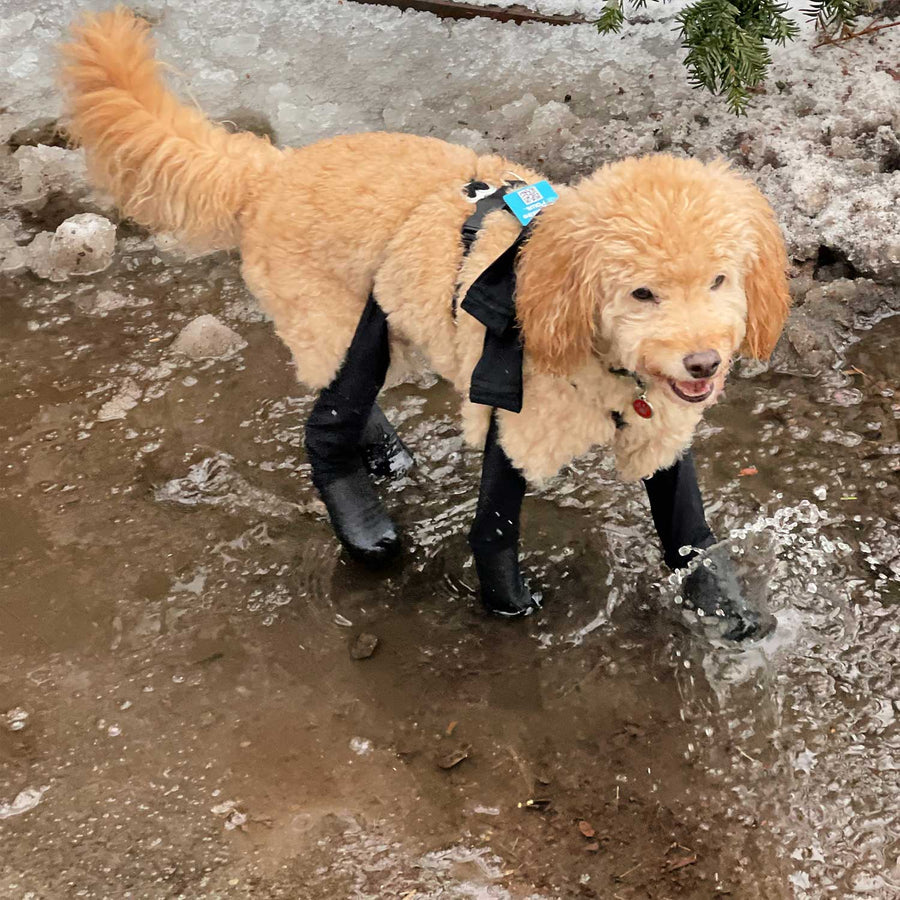 Spring Showers
Most dogs don't love storms, and some won't even touch grass that's wet! Dog rain boots are practical and protective; keep your pup happy with dry paws, and keep you from worrying about the muddy clean-up once you get back indoors!
Dogs that don't have a thick overcoat, like French Bulldogs, can use some extra protection from the rain. With our rain jacket and dog leggings, we have your pup covered from toe to tail! By keeping your dry and warm, rainy-season walks are a whole lot easier and save you
clean-up time after your outdoor adventure.
Summer Heat
From hot sand to burning pavements, summer weather can bring dangerous conditions many owners overlook. Think about the quick run from your towel to the water on beach days--if your feet need protection from walking on scorching sand, your dog's do, too!
There aren't many dog boots designed for summer comfort. Most are clunky, not breathable and are only designed to be worn for short periods of time. Our outdoor dog leggings have a waterproof sole for protection, plus breathable fabric to make sure your dog is protected and comfortable all day! Simply open the drawstring elastic during the dog days of summer to allow for ventilation and better airflow.
Summer months bring:
More prickly burrs
Fertilizer chemicals and allergens
Hot pavement and sand
Do you love days lounging by the pool or floating down a river? Walkee Paws can bring some surprising benefits! Outdoor leggings will protect from the hot concrete, while also allowing your dog to relax on outdoor furniture (or floats!) without the worry of holes or scratches.
The most important part of your summer adventures is to keep everyone safe-your dog included!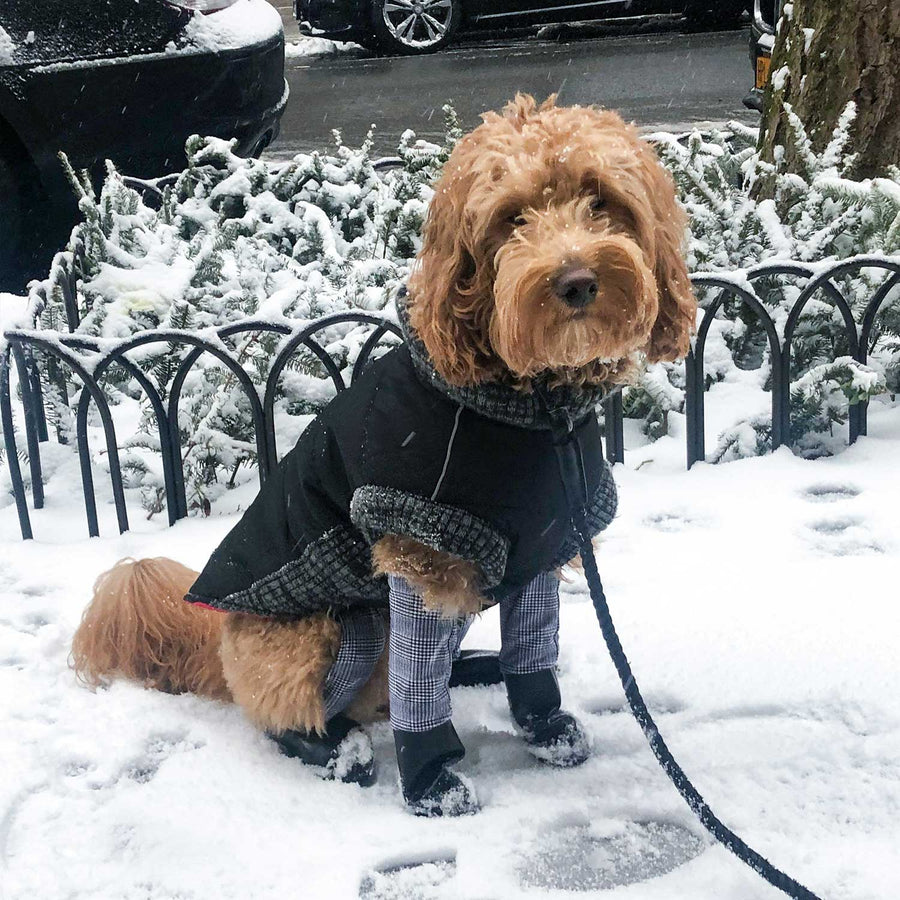 Winter Walks
Most dog's paws are super sensitive to cold weather. Winter dog boots can be big and bulky (and only useful for a few months of the year). Getting your pup used to different fits of other dog boots can be tricky, but with Walkee Paws, they'll feel comfortable in the same fit each season!
If you think it's cold outside, your dog does, too! Whether your pup loves jumping around in the snow or not, it's important to protect your pooch.
In the winter months, you have to watch out for:
Dryness and cracking from dry weather
Frostbite from ice and snow
Slips and falls on slick sidewalks
Dangerous snow-melt chemicals
There are many hidden winter dangers, such as ice salt and snow-melt chemicals. Although certain breeds, like Huskies, tolerate cold and snow much better than short-haired breeds, even winter-loving pups can still be at risk due to chemical or salt exposure.
Our waterproof dog boots feature grippy dots for traction and protects your dog's feet, so you don't have to worry about unnecessary paw exposure or tracking unwanted chemicals into your house.
Whether your dog enjoys the cold and snow or not, any dog can benefit from precautions in inclement weather. Walkee Paws provides worry-free walks, so you can enjoy some fun in any winter wonderland!
Fall Hiking
On long walks over rough terrain, your pup will thank you for the extra support and paw protection Walkee Paws provides.
If you can't walk on a surface barefoot, neither should your dog! While hiking, you'll probably encounter a variety of terrains. Walkee Paws will protect your dog's paws from sharp rocks, rough surfaces and even unwanted prickle burrs. With the right fit, you can be sure that your pup is enjoying each adventure, regardless of where you're going!
Layer with our Liner Socks under, to give even more warmth and protection on cold days!
While your pet is wearing our protective leggings, you won't have to worry about:
Ticks and other creepy crawlers
Scrapes from rocks or rough surfaces
Losing traction on wet surfaces
Indoor Dog Leggings
Sometimes your pet needs a little extra support, and that's just what our indoor dog leggings are designed for! It's easy for dogs' feet to slip and slide on wood floors, especially for our senior pets. Our Indoor Leggings feature grippy socks with a soft comfortable fit and are a perfect solution for pets that need some help maneuvering around.
SHOP NOW
Indoor booties are perfect for:
Senior Pets
As our pets get older, it's hard to see them lose independence. Indoor dog shoes are the solution to keep your pet moving on their own.
Surgery After-Care
Trying to stop paw chewing or messing with an incision site? Walkee Paws prevent any additional irritation.
Slippery Surfaces
It's not just senior dogs who are victims of slippery floors. Our indoor leggings provide a little extra grip, so playtime doesn't have to stop.
Designed With Your Pup in Mind
Walkee Paws are made to be the most comfortable solution for your dog. Not only are they easy to get on and designed to stay on, but the adjustable straps also make sure that you have a perfect fit every time
Plus, Walkee Paws are built for every occasion and paw size! With our easy-to-put-on design, you don't need a complicated velcro strap to secure boots, and our fetching patterns make sure your pup's paws are covered for every occasion.
Never Lose a Dog Boot Again! Walkee Paws are your dog's best friend.